Being locked out of your car is, in fact, quite a frustrating situation especially if you are in a metropolitan like Dubai where it's quite difficult to stand outside, especially in summer.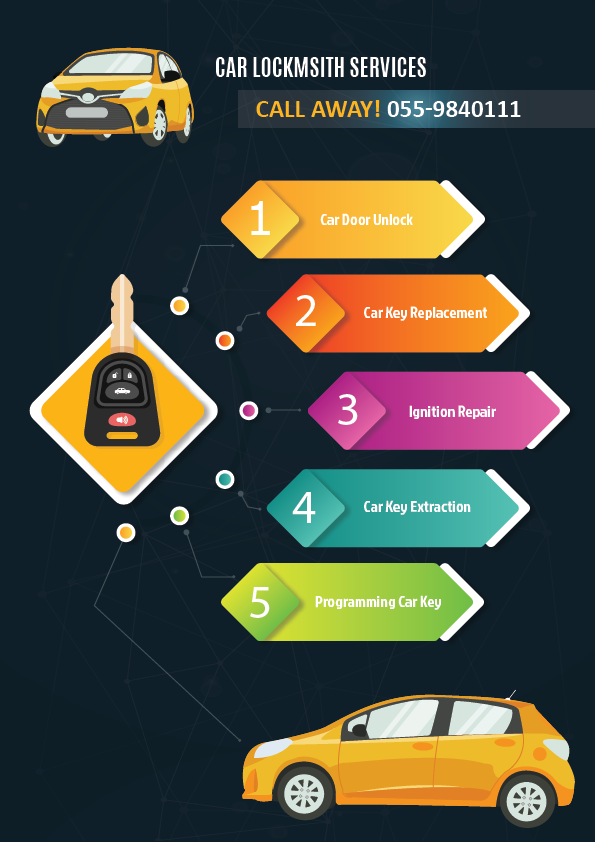 Avoid being frustrated
The best thing you can do with yourself in such a situation is that don't just get frustrated or scared. Though it appears that you have encountered big trouble but really it's not, especially when you are in such an ultra-technical era and city. Take a deep breath and relax! Soon you would be out to your destiny and in your own car, trust me.

Find the duplicate key of your car
We believe that you are a wise person and would have definitely kept a duplicate car key to tackle any such situation of emergency. So first of all, check out for it or if you have it but, at home or office, and not carrying it along right at that time. If you have been ignorant about keeping duplicate or spare car keys, then this is the best opportunity to apply: "I never lose – either I win or I learn". So, once you get out of this situation, visit locksmith of your town like KeyMaker in Dubai and get a good duplicate set, not only of your car keys but also of you another bunch of important office or home keys. Using duplicate car keys is also recommended because it does not involve the unnecessary damage caused to your original car locks that could take place at the hands of an inexperienced locksmith.  

Call for assistance
Although the best thing is to reach out police or nearby yet experienced locksmith for immediate assistance, but, before you go for it, try to recall some of the instant solutions. Let us suggest you that, if your car keys are left inside the car at some easily noticeable location like in its ignition, on the driving seat or even on the dashboard, never leave it unguarded. There should be someone to take care of her if you have to walk away for a while. Better call someone of your contacts to assist you in bringing that duplicate car key to the place you are stuck with the car.

Check for an alternate entry point
Before you end up looking & waiting for the duplicate car key and finally going to call KeyMaker in Dubai. Take some time to check for some alternate entry points into your car which could be any door, window or even the trunk of your car which may have left opened luckily. In fact, this would be the first exercise that the locksmith would also be conducting right after his arrival to the scene. If the luck is not favoring you today, you may be stuck out even with an open trunk because your car trunk may not be built this way in which access to the main compartment is granted through it, in fact, this also involves some efforts which involve unclipping and folding of the rear car seat.

Use of tips & tricks for car unlock
Although, it may seem quite swift an easy job to apply simple tips for quickly getting behind the wheel of your car we would not support it. This is because, you may not only end of escalating your tension but would also cause damage to your car locks whose repair, in the future, if not instantly, would cost you more. Even if you wish to apply some, apply them before giving a call to KeyMaker, your local locksmith in Dubai, because these guys do not take much time in responding to clients, especially to those who are locked out of their car.
Decide to call the professional locksmith in Dubai
You are free to look for the locksmith of your choice to help you out in this situation of a car lockout. You may call a friend to find you some known locksmith or you can rely on your smartphone to Google and search out the best car key maker near me, locksmith in Dubai.

If own a modern style car you must be interested in looking at car key programming Dubai services

In dubai car key programming is a common service for any brand of cars no matter if it's ultra luxury Range Rover key programming or Nissan Key Replacement, Dubai is full of modern locksmiths with trained staff and advanced equipments.
But, you would definitely like to save your precious minutes and mobile data plan as well so better to lodge your assistance request with KeyMaker Locksmith in Dubai through their website or simply accessing their support guy over the phone and online. These locksmith guys are technically well trained and equipped with all the necessary tools and on the roads 24 x 7. This auto locksmith dubai is among those very limited professional locksmiths of Dubai who are quick to respond to your call, provide an instant cost estimate, rapidly locate you and would put you behind the driving seat of your car, within no time.
In case you are in an emergency or life-threatening circumstances, pick up your phone and give a call to Dubai Police. None another source could be better assistance than these gentlemen. They would take good care of you once they reach.